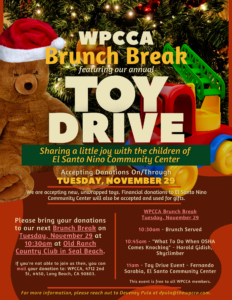 Please join us for our last WPCCA Brunch Break of the year. To close out the year, we have a special Brunch Break planned, which includes a presentation from one of our Associate members, Harold Gidish from Skyclimber. We're also bringing back our in-person toy drive for our friends at El Santo Nino Community Center. We look forward to seeing you all there.
Event Details:
Date: Tuesday, November 29, 2022
Time: 10:30 am – 11:30 am PST
Location: Old Ranch Country Club – 3901 Lampson Ave, Seal Beach, CA 90740
Tentative Agenda:
10:30am, Brunch is served
10:45am, "What To Do When OSHA Comes Knocking" – Harold Gidish, Skyclimber
11am, Toy Drive and Presentation – Fernando Sarabia, El Santo Nino Community Center
This event is free to all WPCCA members. Please be mindful of the dress code: All of the following types of clothing are prohibited: short shorts, cut-offs, ball caps, T-shirts without collars, bathing suits, tank tops, halter tops and deep plunging necklines. Appropriate denim is permitted (no holes, rips or workman style jeans).
For more information or to RSVP to this event, please contact Deveney Pula at dpula@thewpcca.com.